The mind rests at Marina's Brahe sauna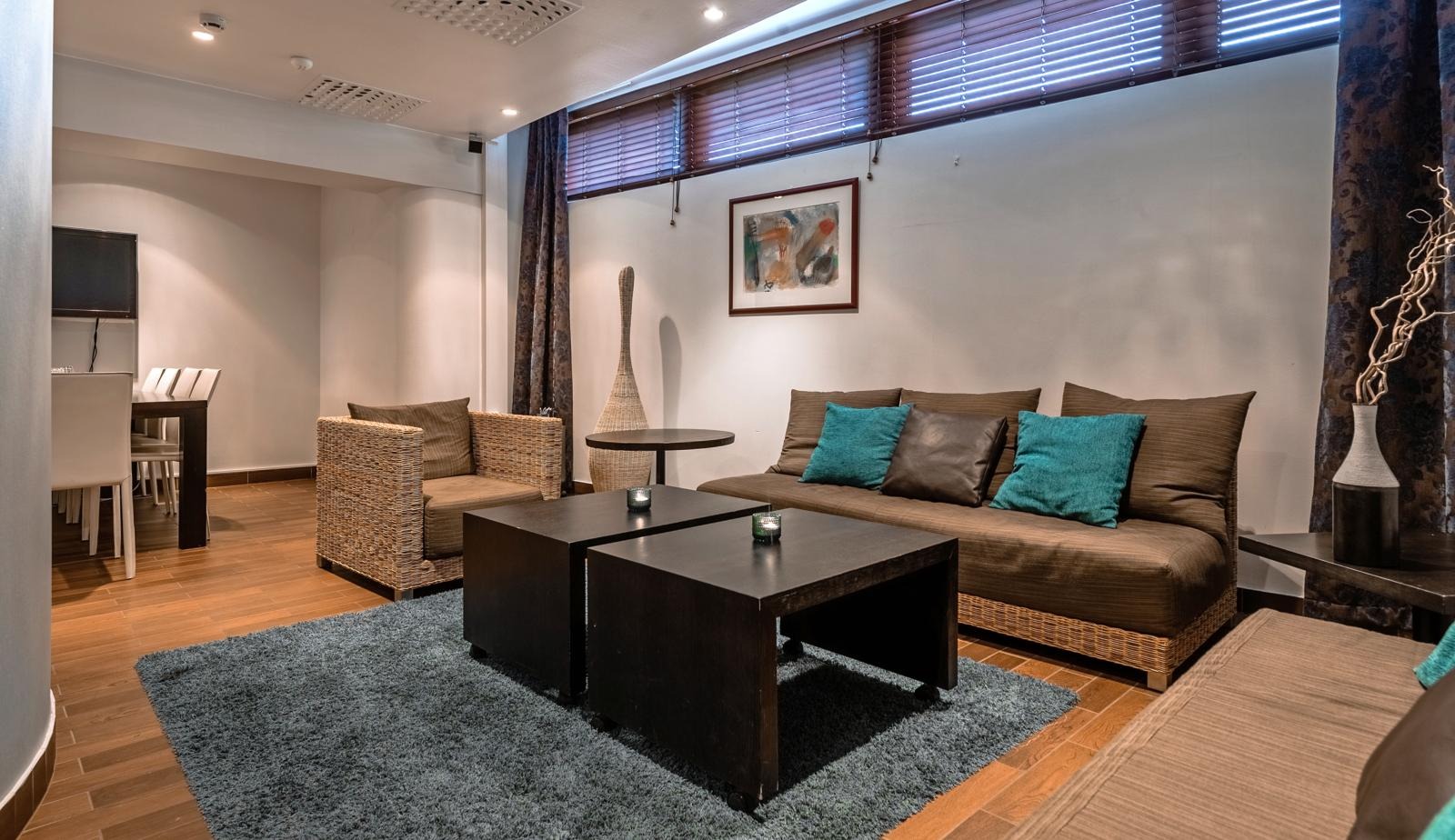 Radisson Blu Marina Palace's Brahen Sauna on the second floor of the hotel, offers a relaxing sauna experience for our guests. Brahen Sauna has a traditional Finnish sauna with seating for 8 people and a relaxing steam sauna for 10 people. The facility includes two separate changing rooms with towels and a shared Brahe Lounge for a relaxed social evening or for meetings before enjoying the sauna.
The lounge has a dining and conference table for 7 people, a sofa group and a TV. It is also possible to connect a computer to the TV screen which makes the space perfect for small meetings.
Brahen sauna
Minimum fee for events is 350 € / 3h. Additional hours 50€/h will be added to the bill for events over 3 hours. From this amount we deduct all ordered meals and drinks and any differences are charged as rent. The rental amount can therefore be covered through catering. Catering does not deduct extra hours. Maximum 25 people. Towels are included in the price.
Before or after the sauna you can enjoy good food and drinks
The sauna also has a fridge with sauna drinks. Meals can be ordered in advance. 10% discount on food and drinks on pre-orders.
From our menu we recommend:
GRILL IT! PEPPER STEAK 180 G (G, L) €38.00
Fillet of Finnish beef, creamy pepper sauce, grilled vegetables and potato gratin with Västerbotten cheese.
GRILL IT! BURGER (L) €23.00
A chargrilled Finnish beef patty (180 g), tomato, pickled cucumber by Myrttinen, marinated red onion, smoked paprika mayonnaise, Cheddar cheese, romaine lettuce and Grill it! French fries.
Gluten free option available on request!
GRILL IT! MARRAKESH CHICKEN (G, L) €20.00 (with S-etukortti card) €24.00
Herb yoghurt sauce, warm vegetable salad with beluga lentils and Grill it! seasoned french fries.
Find our full menu here!
The sauna's refrigerator contains beer, Finnish long drink, and cider. Other drinks are available at our restaurant bar.
For reservations and further information:
Sales service, tel. +358 2 1234 710 (Mon-Fri 8.30-16.30), sales.turku@radissonblu.com
Prices are valid until further notice. We reserve the right to make product and price changes.
Consumption of own drinks in the hotel premises or its restaurants is not permitted under Finnish law. Additional information of allergies on served portions are available on request.
(Regulation of fare Information EU - No 1169/2011)
In these restaurants
Linnankatu 32, 20100, Turku

Linnankatu 32, 20100, Turku