Book SpåraKOFF for a private event
SpåraKOFF is a tram converted into a restaurant, touring the central sights of Helsinki city centre. The ride features beer, wine, cider, refreshments, fun and great views.
You can book SpåraKOFF for private use outside the regular tour schedules. We take customers' wishes into consideration with regard to the pickup point, final destination and route of private tours.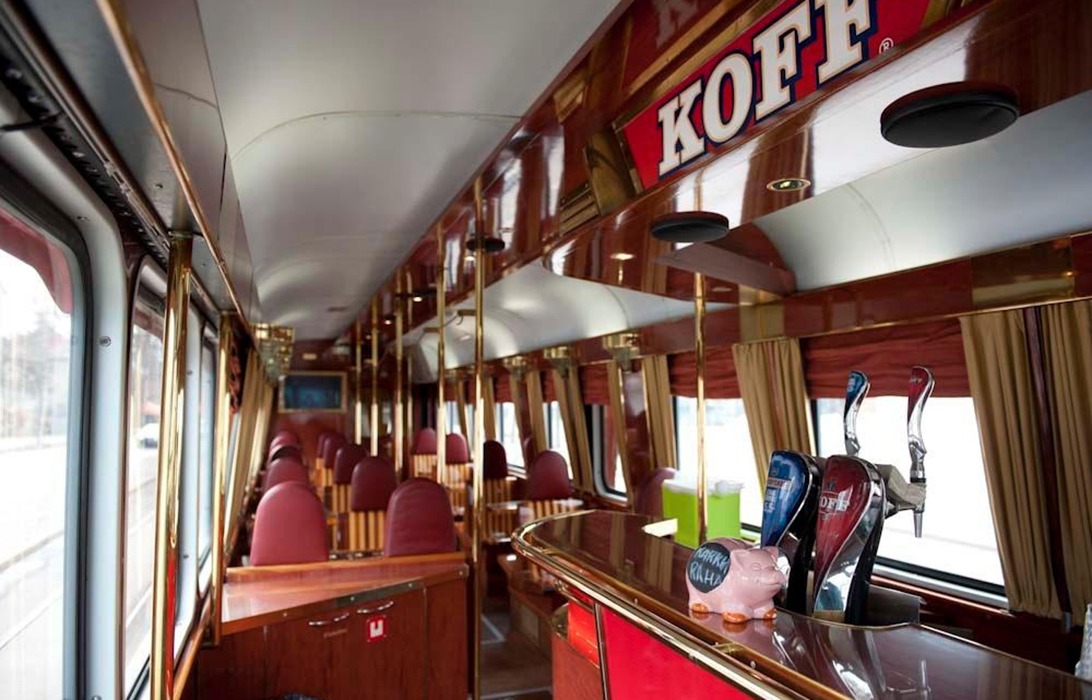 PRICES
Monday–Friday:
With S-Etukortti card, €800/2 hrs, regular price €950. Each additional hour €200
Saturdays and eves of mid-week holidays starting from 6 p.m.:
€1,150/2 hrs, each additional hour €280
Sundays and mid-week holidays:
€1,400/2 hrs, each additional hour €280
FACTS
Carriage type: Helsinki motorised carriage
Year of manufacture: 1959
Converted for restaurant and charter use in 1995
Dimensions: width 2.3 m, height 3.6 m, track gauge 1 m
Gross weight: approx. 20,000 kg
Power: 200 kW (280 hp)
Acceleration: 12.6 s (0–50 km/h)
Top speed: 60 km/h
Passenger capacity: 24 seated, 6 standing
Staff: 1 driver and 1 host/hostess
Serving capacity: approx. 500 pints per stocking
There is a toilet on Spåra
Enquiries and reservations
Sales service of S Group restaurant sales: ravintolamyynti@sok.fi or tel. +358 300 870 020 (Calls cost €0.51/min + network fee.)
For photoshoots and PR
Sinebrychoff communications info@sff.fi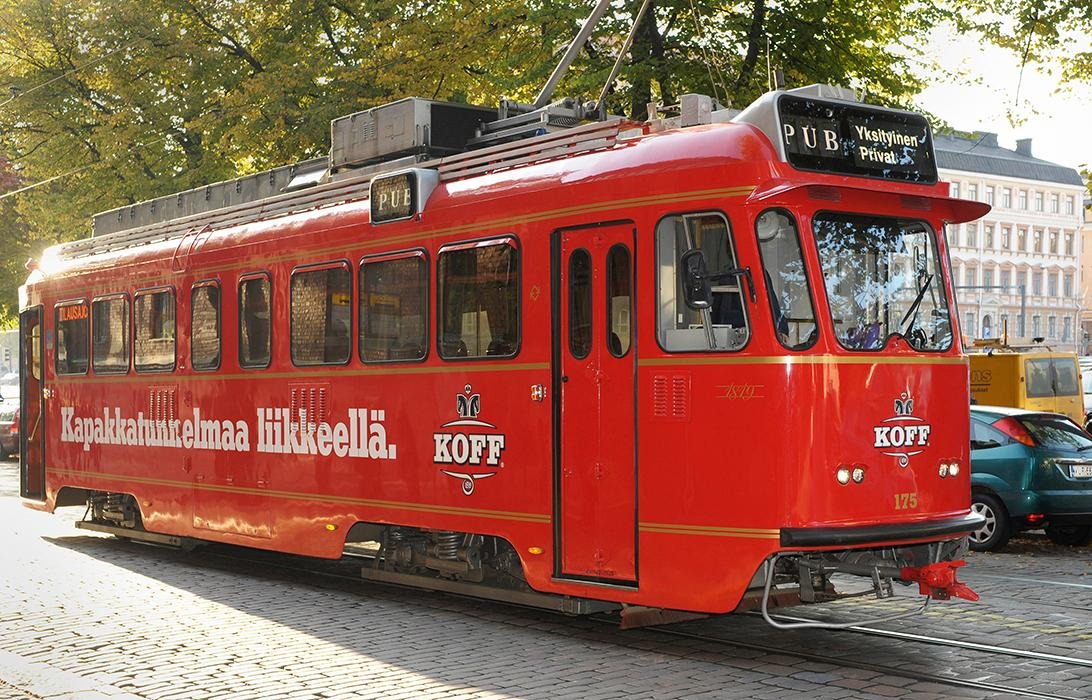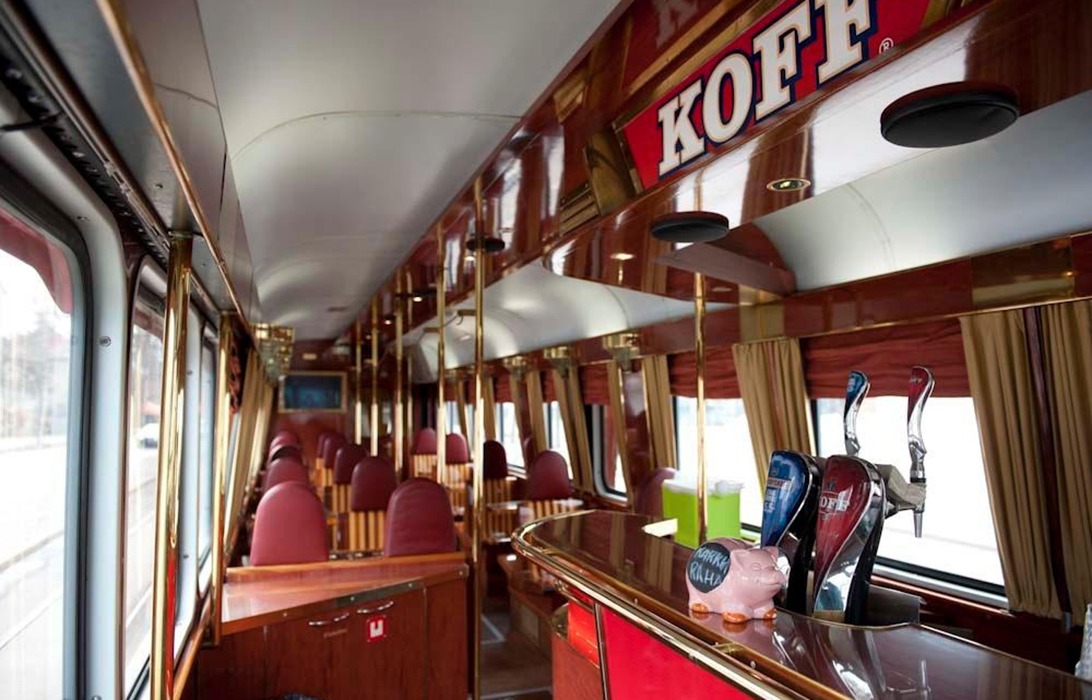 PRICES
Monday–Friday:
With S-Etukortti card, €800/2 hrs, regular price €950. Each additional hour €200
Saturdays and eves of mid-week holidays starting from 6 p.m.:
€1,150/2 hrs, each additional hour €280
Sundays and mid-week holidays:
€1,400/2 hrs, each additional hour €280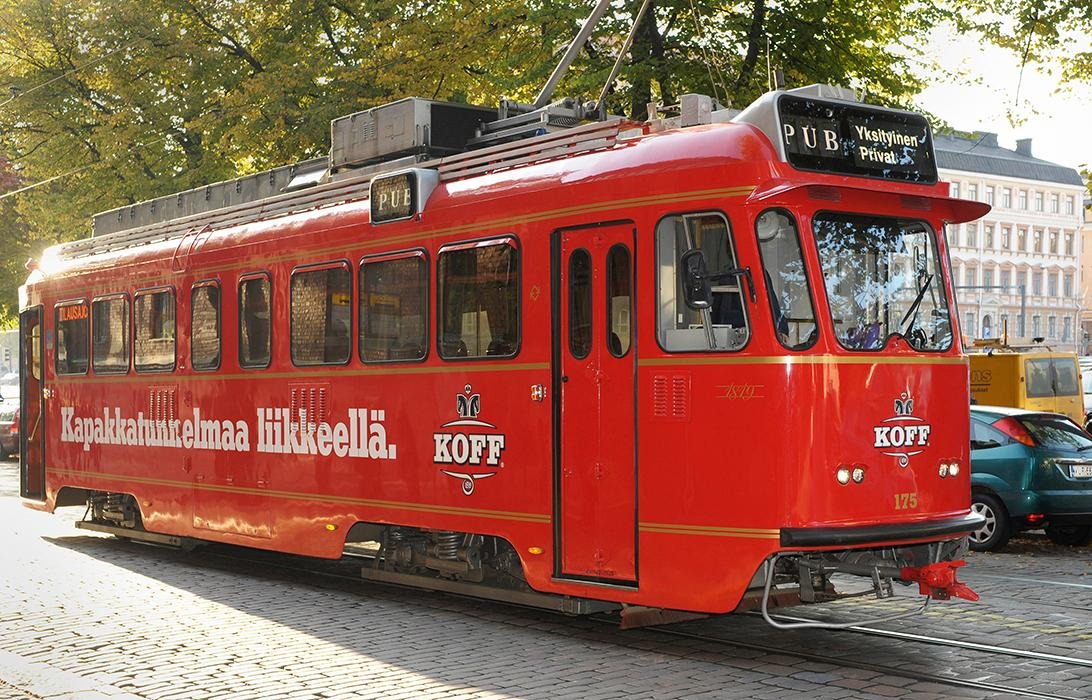 FACTS
Carriage type: Helsinki motorised carriage
Year of manufacture: 1959
Converted for restaurant and charter use in 1995
Dimensions: width 2.3 m, height 3.6 m, track gauge 1 m
Gross weight: approx. 20,000 kg
Power: 200 kW (280 hp)
Acceleration: 12.6 s (0–50 km/h)
Top speed: 60 km/h
Passenger capacity: 24 seated, 6 standing
Staff: 1 driver and 1 host/hostess
Serving capacity: approx. 500 pints per stocking
There is a toilet on Spåra
Enquiries and reservations
Sales service of S Group restaurant sales: ravintolamyynti@sok.fi or tel. +358 300 870 020 (Calls cost €0.51/min + network fee.)
For photoshoots and PR
Sinebrychoff communications info@sff.fi
contact information
Mikonkatu 17, Tilausratikan Pysäkki
Helsinki
map